We've gathered a veritable heap of knowledge about gas detection and everything linked to it.
We've gathered a veritable heap of knowledge over the years about gas detection and everything linked to it. It would be a shame not to do something with it, wouldn't it? We have put together a few comprehensive programs to advance the knowledge of you or your employees about everything gas detection.
Our trainings are put together to form logical modules from which to acquire even more knowledge. There is something for every learning goal and every practice. From an instrument instruction to full-scale safety expert trainings.
What our curricula have in common is that they are a collection of everything we know about gas detection from various angles, taking knowledge from all disciplines in our company. The titles of our trainings may be deceptively simple and generic, we promise that they represent a coherent amalgam of theory and practice.
Below we outline a few of our courses. Be sure to get in touch with a 7Solutions branch near you to get more information about our (local) training courses. Of course if you require a different course content, we would be glad to work with you to compile a training that suits your company the learning goals you envisage.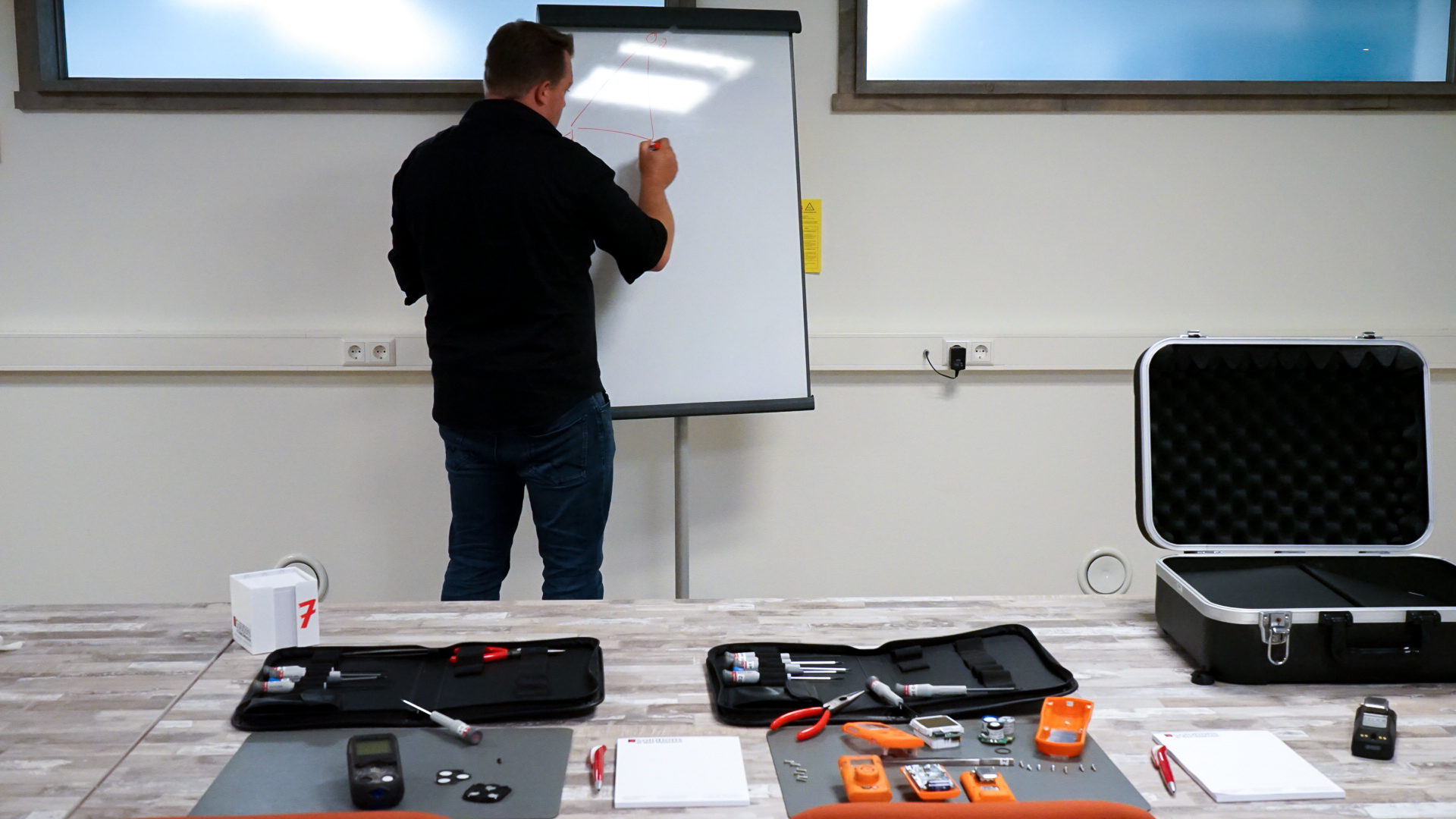 Get in touch with a sales representative for all the training and education questions. Or book now!
Module 1: User instruction
Be absolutely sure your employees know the contents of the user manual as required. Our certified instructor outlines the functions of the gas detector. He or she makes sure your employees are aware of the do's and the don'ts in using it. There is ample opportunity to ask questions. This takes about 2 hours per instrument. The maximum number of participants is 10.
We get great response to this course, as it can save you a lot of time and money. For this course, we recommend some knowledge about gas detection. If there is insufficient knowledge about gas detection, we recommend starting with Module 2 or 3.
Module 2: Gas Detection: Awareness and Theory
Learn the ins and outs of gas detection. Learn of the different ways of determining whether a workplace is safe. The predominant gas detection principles are outlined, giving an overview of the different sensors that are frequently seen in a typical work environment.
Module 3: Gas detection: Theory and Practice
This is the more practical follow-up of Module 2. Real-life detecting situations are simulated in our class room. We use the same instruments that your employees use on a day-to-day basis.
The structure of this course is very flexible, meaning we can incorporate features in your specific gas detection fleet (PID, wireless, etc).
Module 4: Service Level 1 and 2
Level 1: Configuring, testing and diagnosing the gas detection equipment used in your company.
Level 2: Calibrating, maintaining and repairing sensors, pumps, lamps and other parts.
If you have a facilities to maintain your gas detection equipment yourself, this course can save you on time, instruments and money. These courses are quite device-specific, and we will devote enough time to really get to know the detector at hand. After this course, your employee is well-versed in maintaining the gas detection equipment used in your company.
Module 5: Gas Measurement
The purpose of this module is to train participants, in accordance with legal standards, to determine whether work can be performed safely in (confined) spaces.
This course is highly localized and subject to availability, so call your local 7Solutions-branch to learn more.